Expert Advice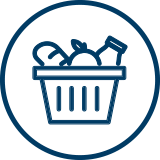 Nutrition
Top Three Breakfasts to Support Your Thyroid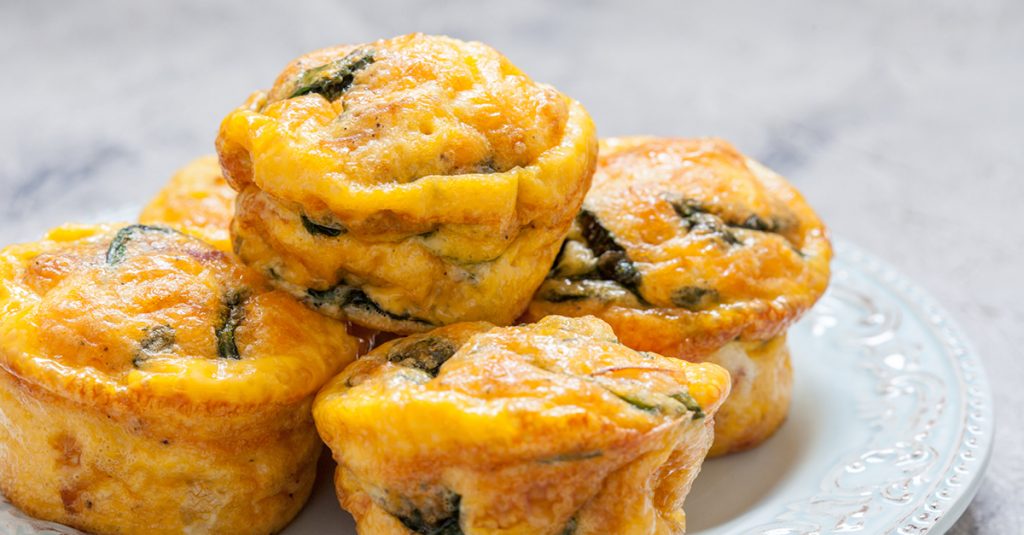 Acella Pharmaceuticals, LLC., is partnering with Lindy Ford, RD, LDN to bring greater awareness to the importance of thyroid care and education. This post is sponsored by Acella Pharmaceuticals and should not be construed as medical advice. Please talk to your doctor about your individual medical situation.
I am someone who doesn't skip breakfast and maybe you are as well. Breakfast is important to me. I'm asked all the time about good breakfast ideas. So here are my top-three breakfast recipes that are easy to make and will help support thyroid function.
1. Traditional Eggs or Egg Muffin Cups
Eggs are a great source of not only iodine but also selenium, another crucial nutrient for thyroid health. Pastured eggs contain more nutrients than conventional eggs.
I am adamant about getting enough iodine and selenium in my diet because I present with Hashimoto's thyroiditis. Eggs are easy and quick, but for variety, I make breakfast tacos using eggs, organic cheese, shredded cabbage and Siete Taco Shells. I also like to use Siete enchilada and hot sauces.
If you want something even quicker, consider make-ahead egg muffin cups. Put anything you want in them and they can be stored in the refrigerator or freezer.
Here is a great recipe from Wholesome Yum: https://www.wholesomeyum.com/egg-muffins/
2. Lindy's N'oatmeal
This is a vegan recipe I developed because traditional oatmeal was too glycemic (raises blood sugar) for me and many of my patients. This N'oatmeal contains thyroid-boosting nuts and nut milk. Almond milk can also be used.
It can be made ahead and stored in the fridge (in stainless steel or glass) for up to three days. The ease of quickly heating up N'oatmeal will help with the morning time crunch. It can also be served cold.
Here is the recipe at Lindyfordwellness.com: https://lindyfordwellness.com/articles/lindys-noatmeal/
3. Green Smoothie
I drink a green smoothie about five times a week – breakfast and dinner. The reason? Smoothies are a great way to drink my vegetables. I can get a phenomenal amount of health and thyroid-building baby greens.
Don't leave greens out of your smoothie. Also, make sure there is a source of healthy fat. Fat helps with the absorption of nutrients for your thyroid health.
Some fruit is fine to add to smoothies, but fruits with their abundance of fructose are NOT vegetables. Your smoothie should contain more vegetables than fruits.
Another benefit of consuming a green smoothie for breakfast is that you can drink it on your drive to work.
Here is a recipe with add-ons at lindyfordwellness.com: https://lindyfordwellness.com/articles/lindys-green-smoothie/
Want More Ideas?
A while ago I did a breakfast video on YouTube and it has more ideas for you: https://www.youtube.com/watch?v=z9k-QB4MoRY
While I enjoy a number of traditional breakfast foods, there is no written rule that you must stick to these. Nontraditional breakfasts foods, such as leftovers from dinner the night before, can be just as good and good for you. In fact, shrimp and guacamole has been a go-to breakfast food for me. If you are eating healthy dinners, you can be eating healthy breakfasts. Also, you can't beat leftovers for quickness – all you have to do is heat them. This gives you the freedom to think outside the breakfast box for greater support of your thyroid and health.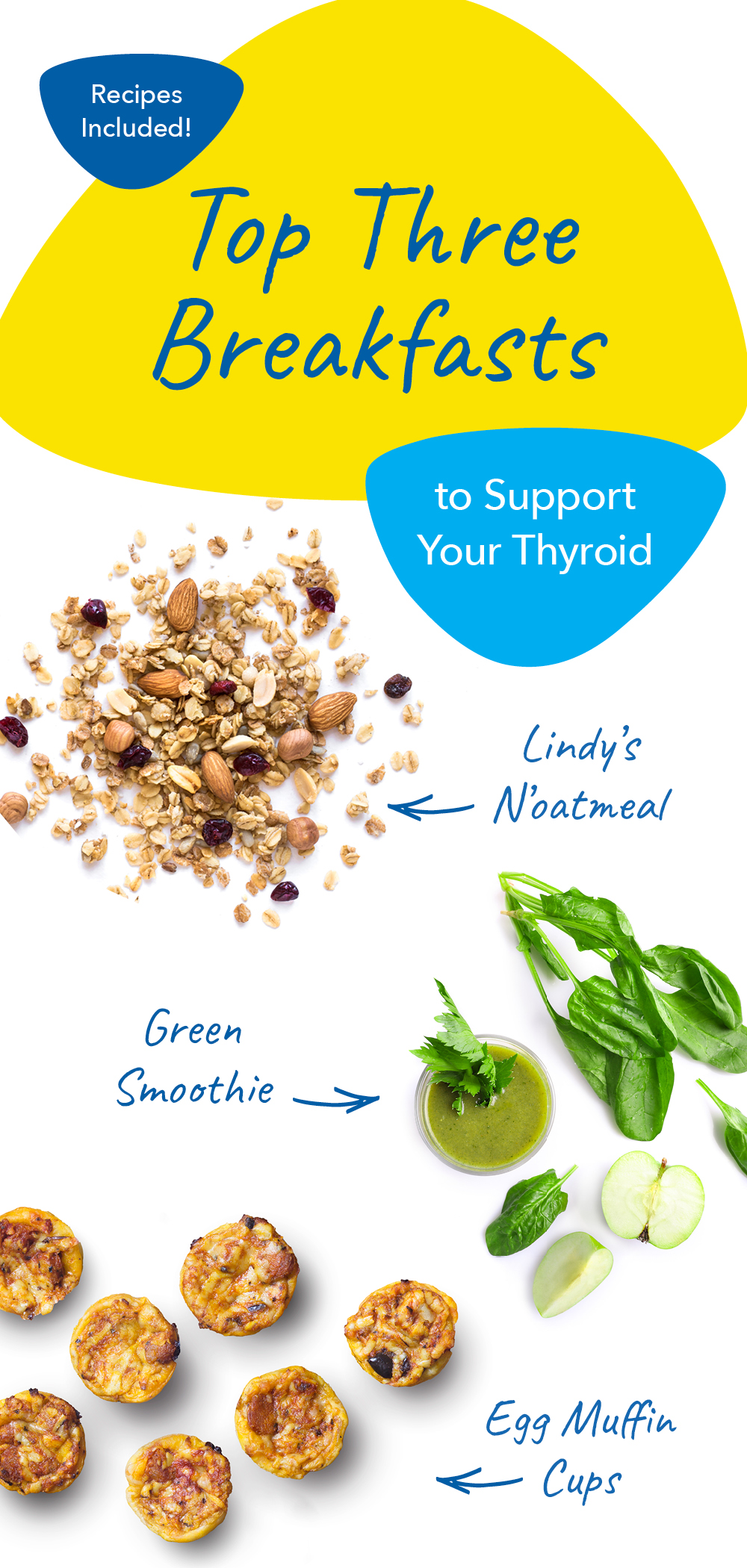 INDICATIONS & IMPORTANT RISK INFORMATION INCLUDING BLACK BOX WARNING
Important Risk Information
Drugs with thyroid hormone activity, alone or together with other therapeutic agents, have been used for the treatment of obesity. In euthyroid patients, doses within the range of daily hormonal requirements are ineffective for weight reduction. Larger doses may produce serious or even life-threatening manifestations of toxicity, particularly when given in association with sympathomimetic amines such as those used for their anorectic effects.
NP Thyroid® is contraindicated in patients with uncorrected adrenal insufficiency, untreated thyrotoxicosis, and hypersensitivity to any component of the product.
In the elderly and in patients with cardiovascular disease, NP Thyroid® should be used with greater caution than younger patients or those without cardiovascular disease.
Use of NP Thyroid® in patients with diabetes mellitus or adrenal cortical insufficiency may worsen the intensity of their symptoms.
The therapy of myxedema coma requires simultaneous administration of glucocorticoids.
Concomitant use of NP Thyroid® with oral anticoagulants alters the sensitivity of oral anticoagulants. Prothrombin time should be closely monitored in thyroid-treated patients on oral anticoagulants.
In infants, excessive doses of NP Thyroid® may produce craniosynostosis.
Partial loss of hair may be experienced by children in the first few months of therapy but is usually transient.
Adverse reactions associated with NP Thyroid® therapy are primarily those of hyperthyroidism due to therapeutic overdosage.
Many drugs and some laboratory tests may alter the therapeutic response to NP Thyroid®. In addition, thyroid hormones and thyroid status have varied effects on the pharmacokinetics and actions of other drugs. Administer at least 4 hours before or after drugs that are known to interfere with absorption. Evaluate the need for dose adjustments when regularly administering within one hour of certain foods that may affect absorption.
NP Thyroid® should not be discontinued during pregnancy, and hypothyroidism diagnosed during pregnancy should be promptly treated.
Indication
NP Thyroid® (thyroid tablets, USP) is a prescription medicine that is used to treat a condition called hypothyroidism from any cause, except for cases of temporary hypothyroidism, which is usually associated with an inflammation of the thyroid (thyroiditis). It is meant to replace or supplement a hormone that is usually made by your thyroid gland.
NP Thyroid® is also used in the treatment and prevention of normal functioning thyroid goiters, such as thyroid nodules, Hashimoto's thyroiditis, multinodular goiter, and in the management of thyroid cancer.