Expert Advice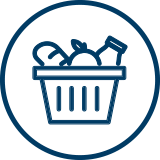 Nutrition
Foods to Help Optimize Metabolism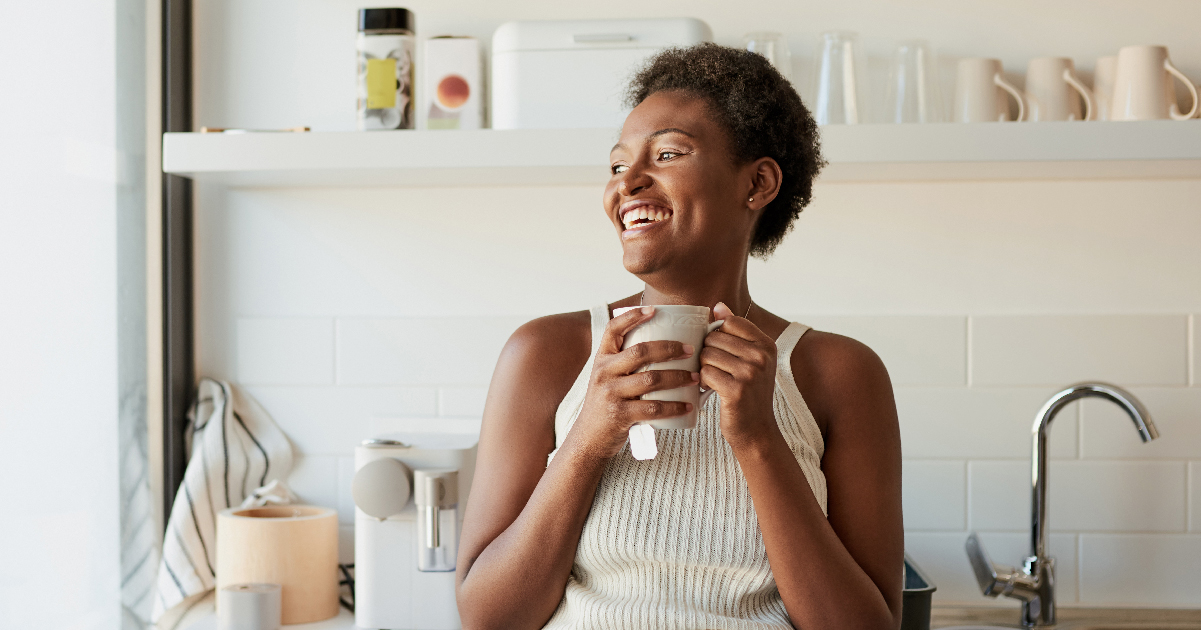 Acella Pharmaceuticals, LLC., is partnering with Nicole German Morgan, RDN, LD, CLT to bring greater awareness to the importance of thyroid care and education. This post is sponsored by Acella Pharmaceuticals and should not be construed as medical advice. Please talk to your doctor about your individual medical situation.
Disclaimer: The information provided is for educational purposes only and does not substitute professional medical advice. Consult a medical professional or healthcare provider before beginning any exercise, fitness, diet, or nutrition routine.
Are there truly any foods that can help to optimize the metabolism? This is a frequently asked question in the world of hypothyroidism. So let's dive into the the facts about the foods that may help to support a healthy metabolism.
Top 5 Foods That Support Metabolism
1. Green Tea
While green tea is most commonly a beverage, we have seen it used in powdered form in smoothies and in other ways and in foods. Green tea has some of the best supporting research surrounding its effect on metabolism.1 For example, green tea may increase thermogenesis (increased energy production) and may positively affect fat metabolism.1
2. Legumes
Legumes are one of the best sources of resistant starch, which may support metabolism. What is resistant starch? These starches are a type of carbohydrate that "resists" digestion in the small intestine and acts more similarly to a fiber. The result is that legumes may support improved metabolic health.2 They may support better blood sugar control as an added bonus!2 Legumes are foods such as any bean, pea, or lentil. These days, you can find pasta made from lentils or chickpeas and various snack products made with legumes. Try them to add variety.
3. Turmeric
Spices and foods high in antioxidants may better support metabolism. Turmeric contains potent antioxidants that may support a healthy inflammatory response as well as healthy fat metabolism.3 You can try adding turmeric to smoothies, sprinkling some on top of your next meal, or stirring it into a soup or stew.
4. Pistachios
Nuts, in general, may have a positive effect on health. But there is interesting research on pistachios that shows improved fat metabolism and blood sugar control after consuming approximately 2 ounces of nuts daily.4 The good news is that all nuts are a great portable snack option, and you can incorporate them into your diet in many ways. Try topping a salad with nuts, add them to oatmeal or blend some nut butter into your next smoothie!
5. Apples
Many fruits, such as apples, also contain resistant starches. Apples in particular also contain the antioxidant quercetin, which is known to contain many anti-obesity properties.5 These properties include supporting a healthy inflammatory response, improving blood sugar control, and helping with appetite control, all of which may support better metabolic health. The great news is that apples are easy to incorporate into a healthy diet as a snack or recipe!
Are any of these foods miracle cures? No, they are not. But you can see how incorporating a variety of whole foods helps support a healthy body and metabolism.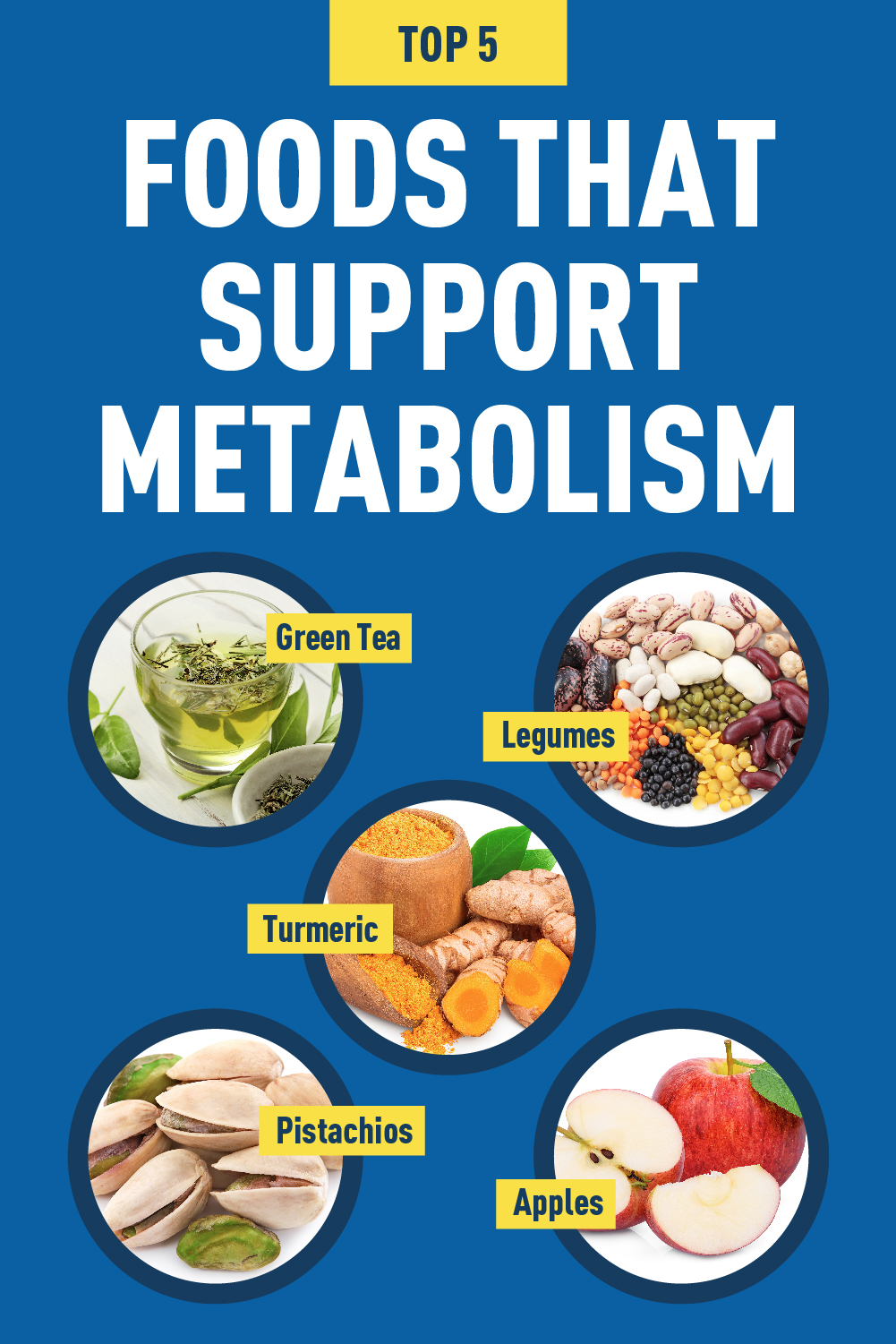 REFERENCES: 1. Dinh TC, Thi Phuong TN, Minh LB, et al. The effects of green tea on lipid metabolism and its potential applications for obesity and related metabolic disorders - An existing update. Diabetes & Metabolic Syndrome: Clinical Research & Reviews. 2019;13(2):1667-1673. doi:10.1016/j.dsx.2019.03.021. 2. Jenkins DJA, Jenkins AL, Wolever TMS, Collier GR, Rao AV, Thompson LU. Starchy foods and fiber: reduced rate of digestion and improved carbohydrate metabolism. Scandinavian Journal of Gastroenterology. 1987;22(sup129):132-141. doi:10.3109/00365528709095867. 3. Srinivasan K. Spices as influencers of body metabolism: an overview of three decades of research. Food Research International. 2005;38(1):77-86. doi:10.1016/j.foodres.2004.09.001. 4. Hernández-Alonso P, Salas-Salvadó J, Baldrich-Mora M, Juanola-Falgarona M, Bulló M. Beneficial Effect of Pistachio Consumption on Glucose Metabolism, Insulin Resistance, Inflammation, and Related Metabolic Risk Markers: A Randomized Clinical Trial. Diabetes Care. 2014;37(11):3098-3105. doi:10.2337/dc14-1431. 5. Hosseini A, Razavi BM, Banach M, Hosseinzadeh H. Quercetin and metabolic syndrome: A review. Phytotherapy Research. 2021;35(10):5352-5364. doi:10.1002/ptr.7144
2056-v1
INDICATIONS & IMPORTANT RISK INFORMATION INCLUDING BLACK BOX WARNING
Important Risk Information
Drugs with thyroid hormone activity, alone or together with other therapeutic agents, have been used for the treatment of obesity. In euthyroid patients, doses within the range of daily hormonal requirements are ineffective for weight reduction. Larger doses may produce serious or even life-threatening manifestations of toxicity, particularly when given in association with sympathomimetic amines such as those used for their anorectic effects.
NP Thyroid® is contraindicated in patients with uncorrected adrenal insufficiency, untreated thyrotoxicosis, and hypersensitivity to any component of the product.
In the elderly and in patients with cardiovascular disease, NP Thyroid® should be used with greater caution than younger patients or those without cardiovascular disease.
Use of NP Thyroid® in patients with diabetes mellitus or adrenal cortical insufficiency may worsen the intensity of their symptoms.
The therapy of myxedema coma requires simultaneous administration of glucocorticoids.
Concomitant use of NP Thyroid® with oral anticoagulants alters the sensitivity of oral anticoagulants. Prothrombin time should be closely monitored in thyroid-treated patients on oral anticoagulants.
In infants, excessive doses of NP Thyroid® may produce craniosynostosis.
Partial loss of hair may be experienced by children in the first few months of therapy but is usually transient.
Adverse reactions associated with NP Thyroid® therapy are primarily those of hyperthyroidism due to therapeutic overdosage.
Many drugs and some laboratory tests may alter the therapeutic response to NP Thyroid®. In addition, thyroid hormones and thyroid status have varied effects on the pharmacokinetics and actions of other drugs. Administer at least 4 hours before or after drugs that are known to interfere with absorption. Evaluate the need for dose adjustments when regularly administering within one hour of certain foods that may affect absorption.
NP Thyroid® should not be discontinued during pregnancy, and hypothyroidism diagnosed during pregnancy should be promptly treated.
Indication
NP Thyroid® (thyroid tablets, USP) is a prescription medicine that is used to treat a condition called hypothyroidism from any cause, except for cases of temporary hypothyroidism, which is usually associated with an inflammation of the thyroid (thyroiditis). It is meant to replace or supplement a hormone that is usually made by your thyroid gland.
NP Thyroid® is also used in the treatment and prevention of normal functioning thyroid goiters, such as thyroid nodules, Hashimoto's thyroiditis, multinodular goiter, and in the management of thyroid cancer.