Expert Advice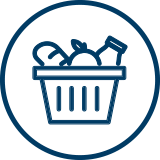 Nutrition
Thyroid-Friendly Recipes Boosted with Selenium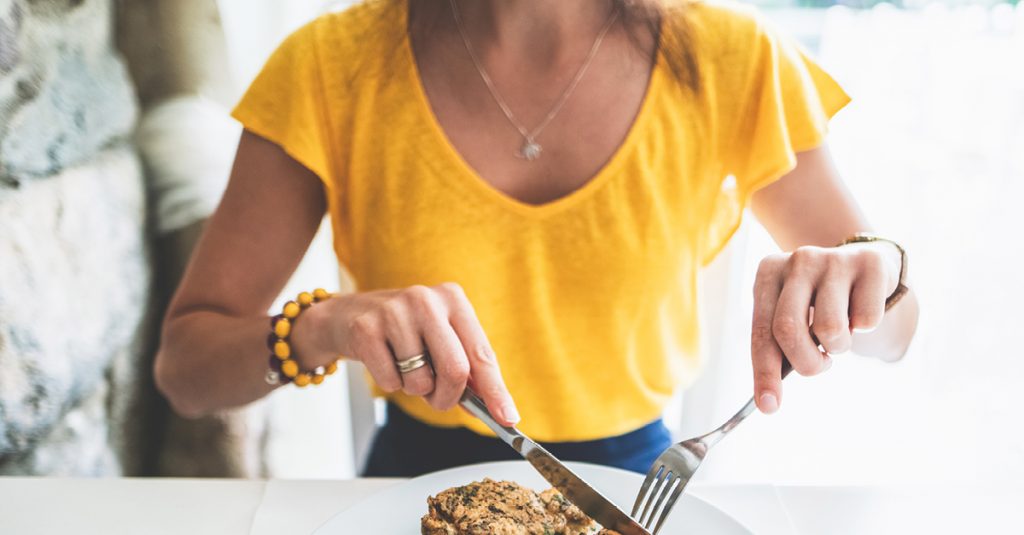 Acella Pharmaceuticals, LLC., is partnering with Nicole German Morgan, RDN, LD, CLT to bring greater awareness to the importance of thyroid care and education. This post is sponsored by Acella Pharmaceuticals and should not be construed as medical advice. Please talk to your doctor about your individual medical situation.
Selenium is a mineral that packs a powerful punch for thyroid support. The thyroid contains enzymes that depend on selenium to function.1 In addition, selenium acts as an antioxidant that aids in optimal thyroid function.1 Overall, selenium supports optimal thyroid hormone regulation.
How Much Selenium is Too Much?
When it comes to selenium supplementation, more selenium is not always better. The tolerable upper intake level for selenium is 400 micrograms (mcg) per day for adults ages 19 and older.2 The recommended dietary allowance (RDA) of selenium for adults ages 19 and older is between 45 and 55 mcg per day, depending on age.2 Knowing these numbers may help you determine how much you are getting daily if you take a multivitamin containing selenium. In addition, please check with your doctor before beginning any new supplement regimen.
Are you supplementing with selenium? If not, perhaps you can consider selenium-rich foods in a balanced diet or a few of these recipes boosted with selenium.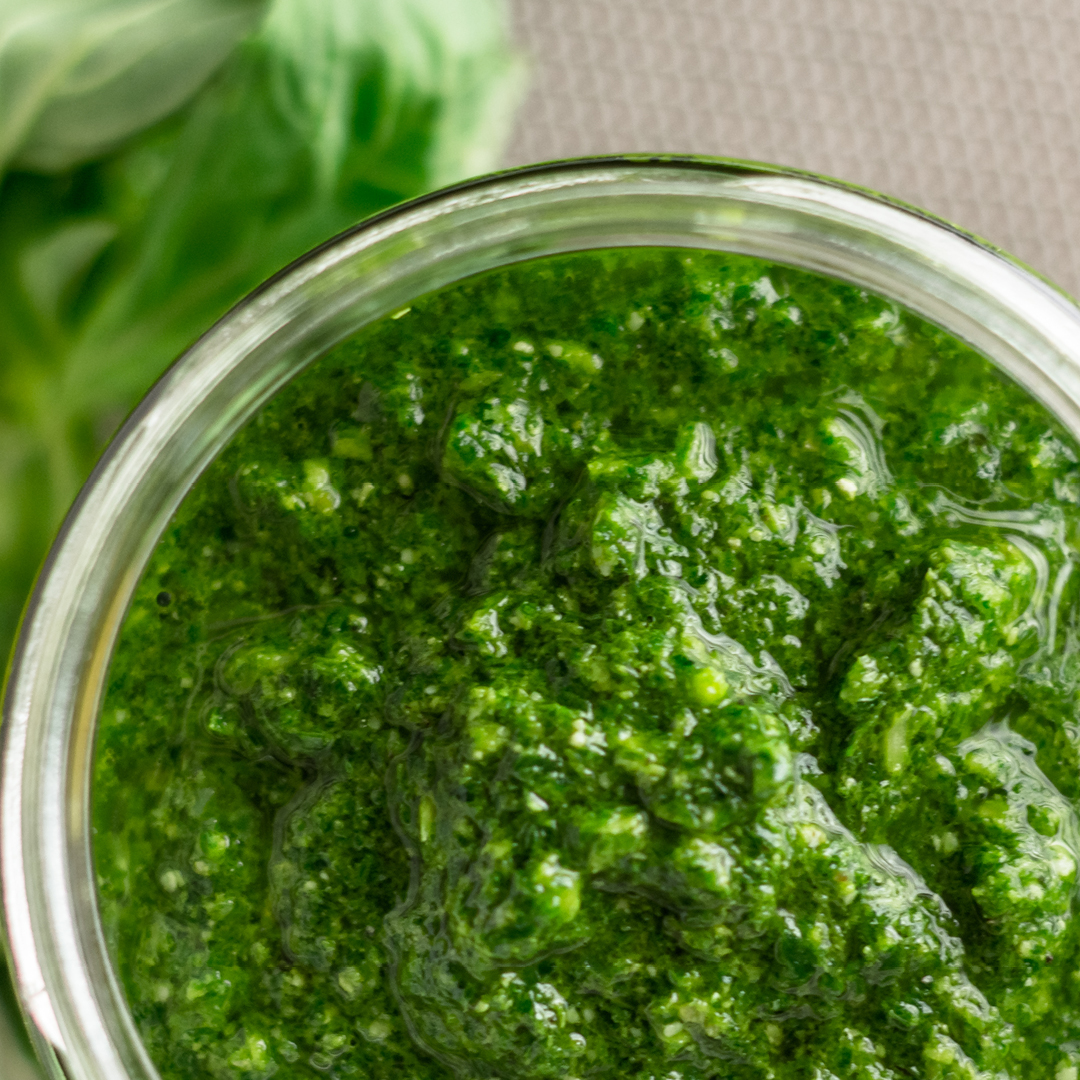 Brazil Nut Pesto
Prep Time: 15 minutes
The Brazil nuts are the star of this recipe as they add a whopping 638 mcg of selenium, or 911% of your daily value (for the entire recipe).3
Ingredients:
3 to 4 cups fresh basil leaves
1 tsp salt
1/4 cup Brazil nuts
2 oz Romano (sheep's milk) or Parmesan cheese (this is lactose free; use cashews for dairy-free option)
Juice of ½ lemon
1 tsp honey
About ½ cup olive oil
Instructions:
Remove as much of the stem from the basil plant as possible (a little stem is completely fine) and place in a food processor or high-speed blender. Add remaining ingredients except oil and pulse until combined.
With the food processor or blender running, slowly drizzle in the olive oil through the food chute until the pesto begins to become creamy. Stop to scrape down sides of food processor or blender if needed.
This is a great recipe that you can make ahead and store in the refrigerator for several days. You can use the pesto as a topping for meat entrées, with a few crackers of choice, or roasted with vegetables for added flavor.

Chicken with Mushrooms
This recipe is great for a weeknight dinner option. The chicken and mushrooms both provide selenium at approximately 20 mcg of selenium per serving.4
Prep Time: 5 minutes Cook Time: 25 minutes Yield: 4
Ingredients:
For the mushrooms:
2 Tbsp butter
2 cups sliced portabella mushrooms
Zest of 1 lemon
Juice of 1 lemon
1 garlic clove, minced
¼ cup white wine (or a white wine vinegar)
½ cup chicken broth
Parsley (dried or fresh to finish the dish)
For the chicken:
1 Tbsp butter 1 lb boneless, skinless chicken thighs Pinch of salt
Instructions:
To make the mushrooms, add the butter and then mushrooms to a large sauté pan, or skillet, over medium heat. Season the mushrooms with a pinch of salt. Cook 5 minutes.
Next, add all of the remaining mushroom ingredients except the parsley and cook about 10 minutes until the mushrooms have softened and cooked down.
Carefully pour the mushroom mixture into a bowl and set aside.
Return the pan to the stove top. Add 1 Tbsp of butter to the pan. Then, add your chicken when the butter is melted. Season with salt. Allow the chicken to cook about 5 minutes on each side.
Pour the mushroom sauce back into the pan and warm everything thoroughly. Season with parsley.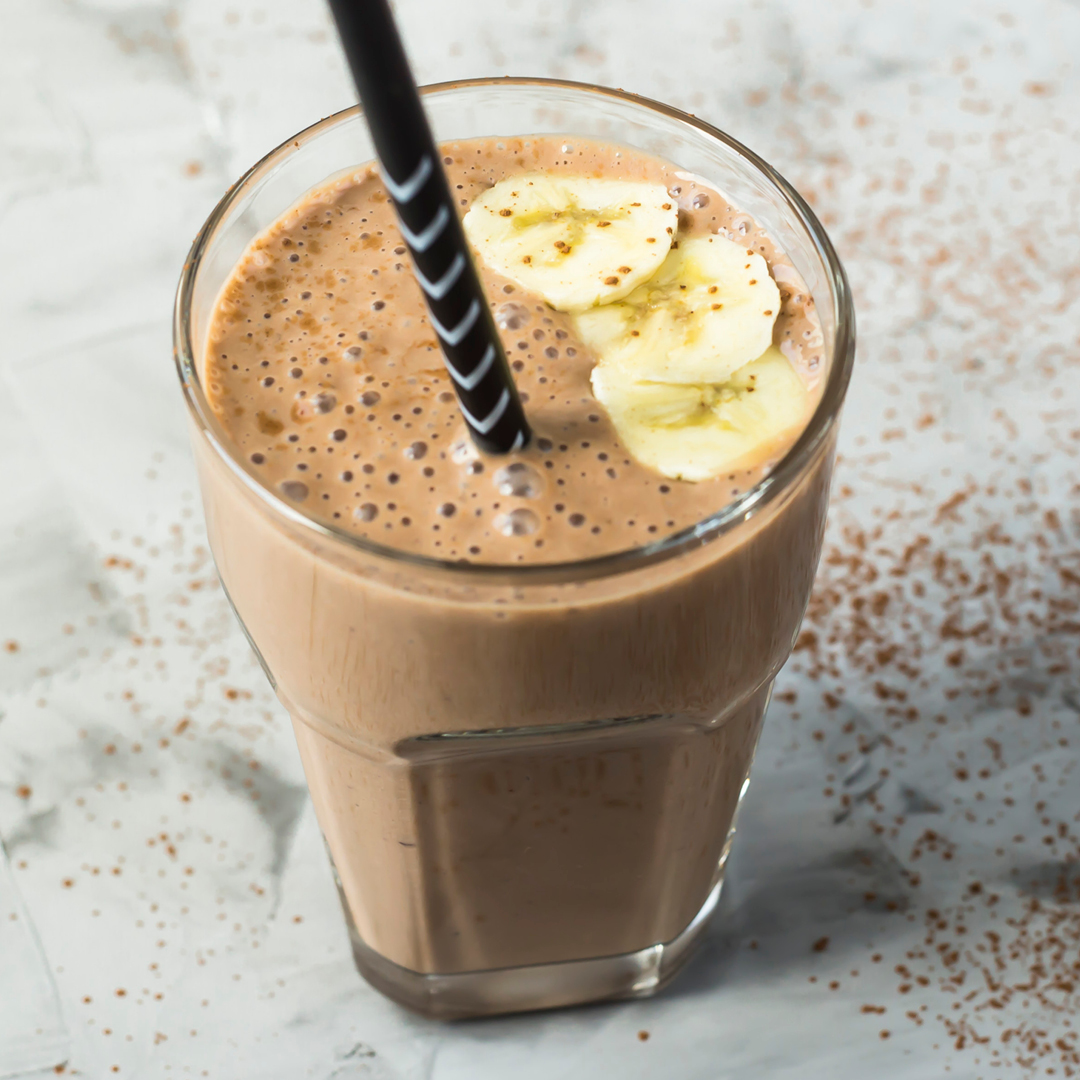 Selenium Boosted Thyroid-Friendly Smoothie
Prep Time: 5 minutes Yield: 1 serving
This plant-powered smoothie contains various seeds and nuts, banana, spinach and cocoa, which all contain selenium. The entire smoothie contains approximately 13.5 mcg of selenium which makes it an excellent source of selenium and a thyroid-friendly recipe!5-7
Ingredients:
1 banana
1 Tbsp cocoa powder
2 Tbsp sunflower seed butter
1 Tbsp cashews
1 cup raw spinach
1 cup milk or non-dairy milk of choice (selenium content varies)
Instructions:
Place all ingredients in a blender and blend until smooth. Selenium Content May Vary
One important fact to remember is that the selenium content of our food may vary depending on where the food was sourced and how it was grown or raised. Since the selenium content may be variable, this is another reason to focus on a balanced and varied diet to get multiple sources of thyroid-friendly minerals.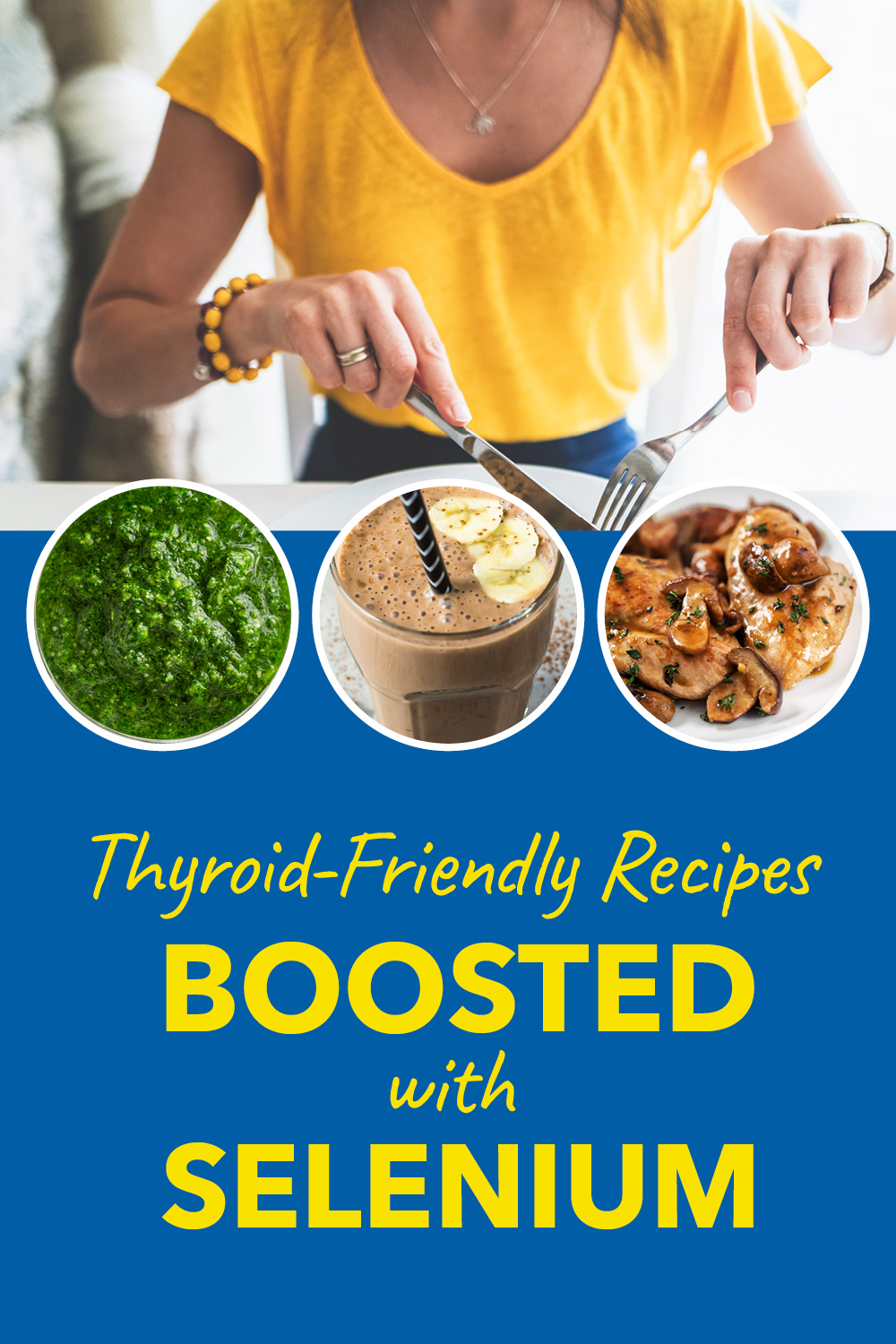 INDICATIONS & IMPORTANT RISK INFORMATION INCLUDING BLACK BOX WARNING
Important Risk Information
Drugs with thyroid hormone activity, alone or together with other therapeutic agents, have been used for the treatment of obesity. In euthyroid patients, doses within the range of daily hormonal requirements are ineffective for weight reduction. Larger doses may produce serious or even life-threatening manifestations of toxicity, particularly when given in association with sympathomimetic amines such as those used for their anorectic effects.
NP Thyroid® is contraindicated in patients with uncorrected adrenal insufficiency, untreated thyrotoxicosis, and hypersensitivity to any component of the product.
In the elderly and in patients with cardiovascular disease, NP Thyroid® should be used with greater caution than younger patients or those without cardiovascular disease.
Use of NP Thyroid® in patients with diabetes mellitus or adrenal cortical insufficiency may worsen the intensity of their symptoms.
The therapy of myxedema coma requires simultaneous administration of glucocorticoids.
Concomitant use of NP Thyroid® with oral anticoagulants alters the sensitivity of oral anticoagulants. Prothrombin time should be closely monitored in thyroid-treated patients on oral anticoagulants.
In infants, excessive doses of NP Thyroid® may produce craniosynostosis.
Partial loss of hair may be experienced by children in the first few months of therapy but is usually transient.
Adverse reactions associated with NP Thyroid® therapy are primarily those of hyperthyroidism due to therapeutic overdosage.
Many drugs and some laboratory tests may alter the therapeutic response to NP Thyroid®. In addition, thyroid hormones and thyroid status have varied effects on the pharmacokinetics and actions of other drugs. Administer at least 4 hours before or after drugs that are known to interfere with absorption. Evaluate the need for dose adjustments when regularly administering within one hour of certain foods that may affect absorption.
NP Thyroid® should not be discontinued during pregnancy, and hypothyroidism diagnosed during pregnancy should be promptly treated.
Indication
NP Thyroid® (thyroid tablets, USP) is a prescription medicine that is used to treat a condition called hypothyroidism from any cause, except for cases of temporary hypothyroidism, which is usually associated with an inflammation of the thyroid (thyroiditis). It is meant to replace or supplement a hormone that is usually made by your thyroid gland.
NP Thyroid® is also used in the treatment and prevention of normal functioning thyroid goiters, such as thyroid nodules, Hashimoto's thyroiditis, multinodular goiter, and in the management of thyroid cancer.